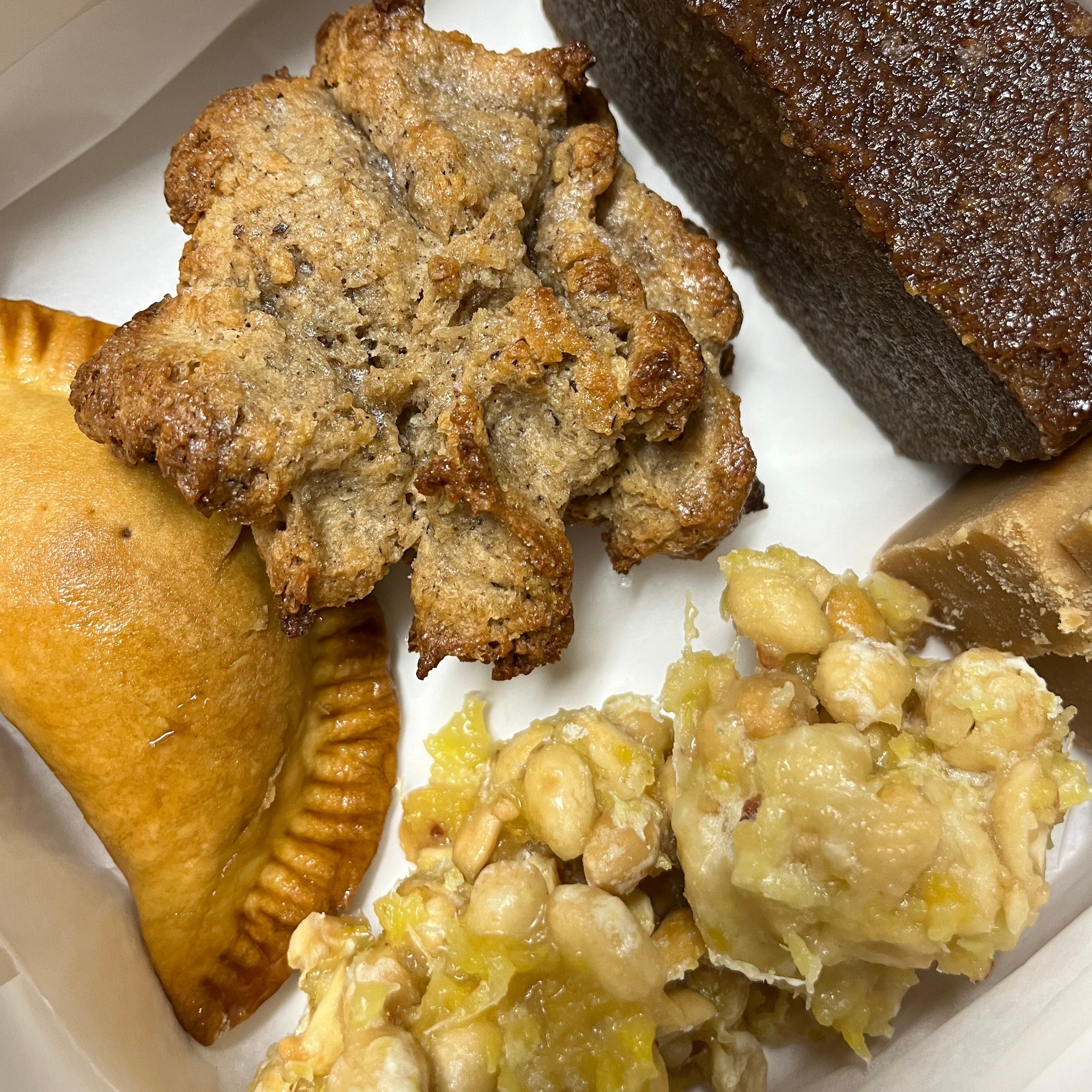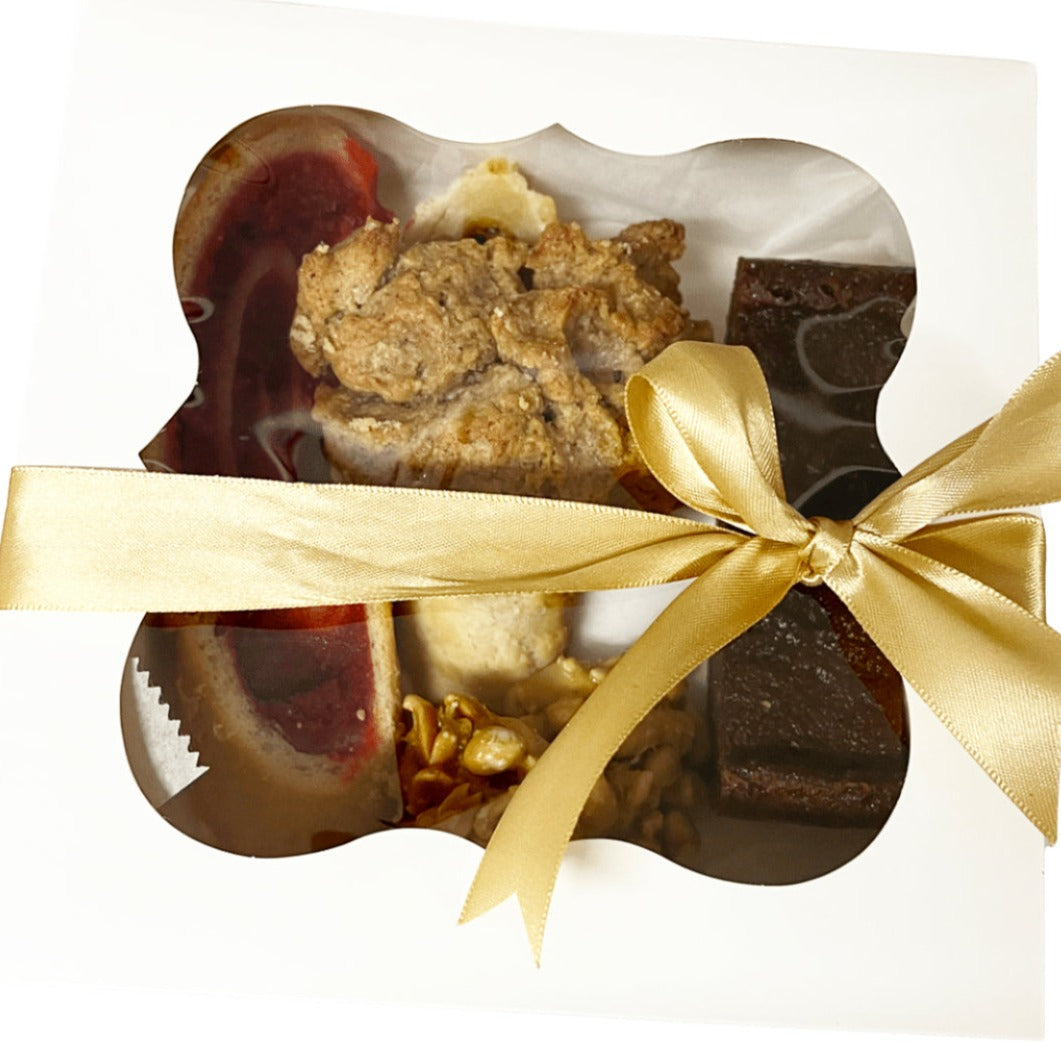 Introducing Our Taste of Home box, a unique and delightful snack experience that transports your taste buds to Grenada! Customize your box with any 5 mouthwatering treats from our tantalizing list. It's perfect for personal cravings or gifting occasions, capturing the essence of Grenada's culinary heritage. Dive into the enchanting flavors of Grenada and create your own culinary adventure with Our Taste of Home box.
Choose any 5 items from our carefully crafted list, and let us know in the notes. Get ready to embark on a taste sensation like no other, as we bring a piece of Grenada's gastronomic wonders right to your doorstep. Order your customizable Taste of Home box today and let your snacking journey begin! Choose any 5 items from the list below. Let us know in the notes.
FIVE Treats are as follow:
2 groundnut sugar-cake pieces
1 cut-cake(coconut roll) slice
1 currant roll slice
1 tart
1 coconut drop
1 sweet potato pudding slice
2 coconut fudge pieces
*Cut-cake slice comes with red food colouring as shown in picture.
All of our treats are made in an environment where PEANUT, TREE-NUTS, EGGS, MILK, SOYA, SESAME, GLUTEN and ALCOHOL are used.
Enjoy our enhanced customer experience with our convenient options for receiving your freshly baked Grenadian treats:

1. Storefront Pick-Up: Experience the joy of picking up your favorite treats in person by opting for FREE pick-up at our storefront window located on the left wing at 646 Oakwood Ave. It's a hassle-free way pre-ordering and skipping the lines to get your hands on our delicious creations.

2. Local Delivery: Sit back and relax as we bring the freshly baked goodness right to your doorstep. With our same-day local delivery service, you can enjoy the convenience of receiving your treats within hours, ensuring they arrive in perfect condition.

3. Canada-Wide Shipping: If you're located outside our local area, worry not! We offer efficient Canada-wide shipping. Your order will be dispatched by Wednesday with the cutoff Saturday 11:59 PM. You can expect delivery within 1-5 business days. We recommend consuming the treats immediately upon arrival for the best taste and texture.

*Disclaimer: To maintain the quality of our products, we do not ship with ice packs or dry ice. If you're comfortable with this fact, we invite you to indulge in our delectable treats.

Returns: As all our orders are freshly made-to-order, we do not offer refunds or returns. Rest assured, every treat you receive is made with utmost care and attention to ensure it's of the highest quality.
We prioritize the safety and well-being of our customers. While we strive to accommodate various dietary needs, it's important to note that our products are prepared in an environment that handles gluten, tree nuts, peanuts, dairy, eggs, soy, and alcohol. If you have severe allergies or specific dietary restrictions, we recommend refraining from ordering our products. While our team takes extensive precautions to prevent cross-contamination, there is a possibility that our products may come into contact with other allergens. Your health is our utmost concern, and we want to ensure your safety at all times.
For best results, consume within 3 days. To freeze, wrap in plastic wrap and store for up to 3 months.
Share